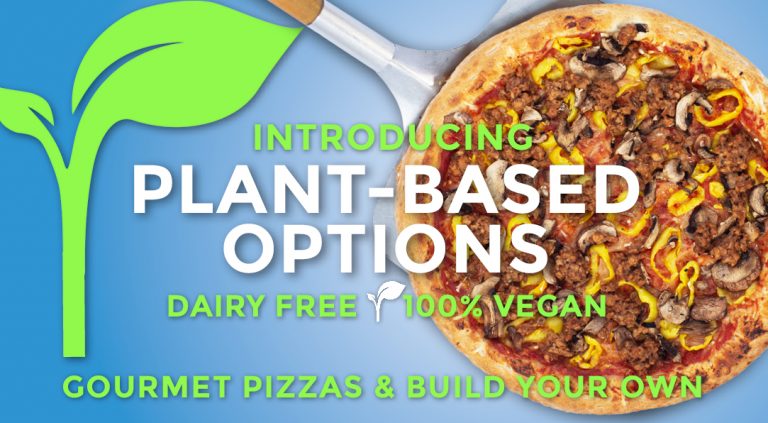 Here at Cottage Inn Pizza, we aim to make gourmet pizzas that satisfy any craving, regardless of your dietary restrictions. That's why we are thrilled to announce that our plant based menu has expanded to 30 locations throughout Michigan and Ohio!
Back in September of 2019, we introduced our plant based, 100% vegan menu at 9 Cottage Inn Pizza locations in Ann Arbor and Lansing, MI. Now, we're finally expanding the plant based menu to locations throughout the state! Whether you are vegan, avoiding dairy, trying to eat healthier, or just want to reduce your impact on the earth by consuming fewer animal products, you will love our plant based pizzas!
Our plant based pizza menu is now available at the following locations:
1141 Broadway St, Ann Arbor, MI 48105
546 Packard St, Ann Arbor, MI 48104
2301 W. Stadium Ave, Ann Arbor, MI 48103
2900 S. State St, Ann Arbor, MI 48104
1970 N Opdyke Rd, Auburn Hills, MI
3642 W 12 Mile Rd, Berkley, MI 48072
7684 N Canton Center Rd, Canton, MI 48187
43647 Michigan Ave, Canton, MI 48188
520 S Main St, Chelsea, MI 48118
39550 W 14 Mile Rd, Commerce Charter Twp, MI 48390
3219 Broad St, Dexter, MI 48130
615 E Grand River Ave, East Lansing, MI 48823
33216 Grand River Ave, Farmington, MI 48336
227 W Silver Lake Rd, Fenton, MI 48430
3243 Miller Rd, Flint, MI 48507
12830 S Saginaw St, Grand Blanc, MI 48439
1995 N Cedar St Suite 6, Holt, MI 48842
303 S Washington Square, Lansing, MI 48933
5405 W Saginaw Hwy, Lansing, MI 48917
15367 Newburgh Rd, Livonia, MI 48154
505 W Eleven Mile Rd, Madison Heights, MI 48071
983 S Saginaw Rd, Midland, MI 48640
1639 E Broomfield St, Mt Pleasant, MI 48858
30751 Milford Rd, New Hudson, MI 48165
41758 W 10 Mile Rd, Novi, MI 48375
1743 W Grand River Ave, Okemos, MI 48864
4342 Bay Rd, Saginaw, MI 48603
501 E Michigan Ave, Saline, MI 48176
47 S Cass Lake Rd, Waterford Twp, MI 48328
32397 Van Dyke Ave, Warren, MI 48093
8303 N Wayne Rd, Westland, MI 48185
2407 Washtenaw Ave, Ypsilanti, MI 48197
8317 Market Exchange Dr, Westerville, OH 43081
First, we stretch our freshly-made dough into the perfect round base. We use soy protein instead of whey protein, so our pizza dough is already vegan! Next, we spread on our signature pizza sauce. Finally, we sprinkle on our plant based cheese and the rest is up to you! Whether you choose to add your favorite veggies, try our Hungry Planet plant-based Sausage, or just enjoy it plain, you're going to love it. You can enjoy our plant based pizzas in Small, Medium, Large, and X-Large sizes.
Along with our new plant based ingredients, we've also introduced two new gourmet pizzas. Feeling adventurous? Try the Plant Based Sweet & Spicy, which is topped with BBQ sauce, plant based cheese, jalapenos, pineapple, and plant based sausage. If you're looking for something classic and delicious, try the Plant Based Supreme, which includes plant based cheese, hot pepper rings, mushrooms, and plant based sausage.
Are you excited about our plant based menu? Let us know! You can reach out to us on our social media pages below.
Facebook: Facebook.com/CottageInn/
Twitter: @CottageInn
Instagram: @cottageinnpizza