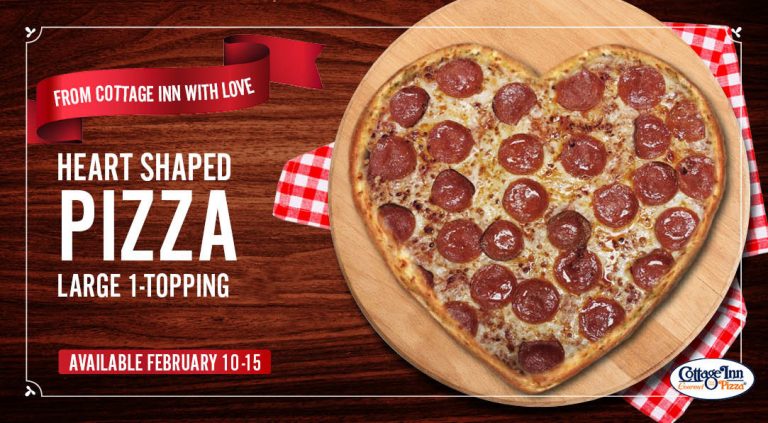 Looking for the perfect way to show some love this Valentine's Day? Cottage Inn Pizza has you covered! Share a piece of your heart with our limited time heart-shaped pizzas. Whether you're looking to surprise your significant other, show your best friends some appreciation, or even just do something nice for yourself this Valentine's Day, a heart-shaped pizza should do the trick. Celebrate the season of love with a Large, 1-Topping Thin Crust pizza in the shape of a heart. Please note, pizzas will arrive unsliced. We wouldn't want to break your heart!
So go ahead, eat your heart out this Valentine's Day! Celebrate with our limited edition Heart Shaped Pizza, Available at participating locations only from 2/10 – 2/15.
Find a Cottage Inn Pizza Near You
Check the list below to see if your local Cottage Inn is offering Heart-Shaped Pizzas. Simply click your location to order one today!
Holt , MI
Downtown Lansing , MI
West Saginaw – Lansing , MI
Saline , MI
Broadway , MI
Packard , MI
Stadium , MI
State ST , MI
Washtenaw , MI
KALAMAZOO, MI
AHILLS, MI
ALLENDALE, MI
BAYCITY, MI
BERKLEY, MI
BRIGHTON, MI
CHARLOTTE, MI
CHELSEA, MI
COLDWATER, MI
COLUMBUS, OH
COMMERCE, MI
DAVISON, MI
DEXTER, MI
East Lansing , MI
FARMINGTON, MI
FENTON, MI
FLINT1, MI
Grand Blanc, MI
HILLIARD,OH
HILLSDALE, MI
HOWELL, MI
JACKSON, MI
Lincoln Park, MI
LIVONIA, MI
LYONTWP, MI
MADISONHT, MI
MIDLAND, MI
MT.PLEASANT, MI
North CANTON, MI
NILES, MI
NOVI, MI
OKEMOS, MI
PIGEON, OH
POLARIS, MI
REDFORD, MI
ROMULUS, MI
SAGINAW, MI
South CANTON, MI
SHURON, MI
SOUTHFIELD, MI
STURGIS, MI
WARREN, MI
WATERFORD, MI
WESTLAND, MI