Sometimes it just feels good to switch things up a little. Our Gourmet pizzas are great, but you shouldn't limit yourself to what's on the menu! Try adding subtle twists to old favorites to customize your pizza experience. Here are some of our favorite ways to switch up your Cottage Inn Gourmet pizzas and make them your own.
______________________________________________________
All Meat

The All Meat pizza is savory, delicious, and filling. We love complimenting the heavy flavors of sausage, pepperoni, bacon, and beef with something fresh and light. Adding some veggies, like chopped green pepper, mushroom, or tomato, can freshen up your slice in an instant. If you're looking for even more meat, try adding steak or grilled chicken to the mix!
Ranch Taco

The Ranch Taco pizza combines two of our favorite foods to create a delicious, Mexican-inspired masterpiece. The Ranch Taco gourmet comes with olive oil and a taco seasoning base, beef, red onion, tomato, black olives, and cheddar cheese, and it's drizzled with our Homemade Ranch. Just when you thought it couldn't get any better, try mixing up the toppings to create your own custom taco-pizza masterpiece. We recommend adding on some jalapeños and lettuce, or switching it up with some grilled chicken instead of ground beef.
Bacon cheddar burger

Similarly to the Ranch Taco pizza, the Bacon Cheddar Burger pizza is a delicious match made in food heaven.  It comes with bacon, beef, red onion, and cheddar cheese, which creates the perfect base for you to create the custom pizza of your dreams. Try adding lettuce and tomato for a classic cheeseburger taste, or go crazy with mushroom, pickles, sauces, and whatever else you love on your burgers.
Vegetarian
Our vegetarian pizzas are full of delicious flavor already, which makes them the perfect base for meat-loving pizza eaters. Even if you can't live without meat toppings on your pizza, you should still give our vegetarian section a try! Vegetarian Gourmet pizzas like the Spicy Mediterranean, Pesto Primavera, and the Flavorful Vegetarian can be taken to the next level with some grilled chicken, steak, pepperoni, or sausage.
We were inspired by Instagram user @ashley_shultz_ in her transformation of the Roma Pesto. The pepperoni really takes it to the next level!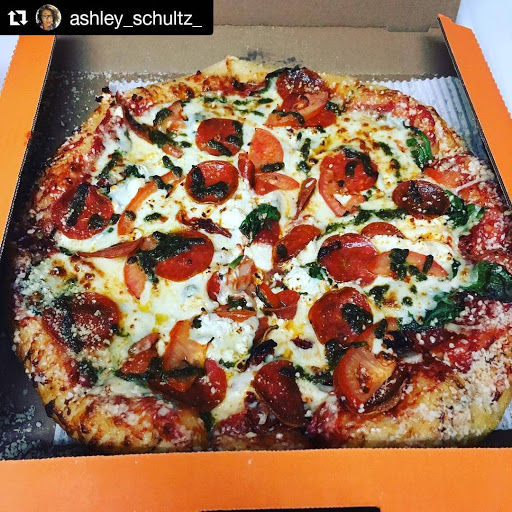 If you aren't feeling adventurous enough to experiment with different toppings, don't worry! There are still lots of other ways to take your Gourmet pizza to the next level.
We offer six different kinds of crust, which gives you an instant way to switch up your pizza. Keep it simple with Butter, Garlic Butter, or Parmesan, or be a little more adventurous and try our Cajun Butter, Sesame Seed, and Everything crusts. We also offer ten different sauces, including Alfredo, Buffalo, Carolina Tangy Gold BBQ, Italian Dressing, Olive Oil, Pesto, Pizza, Homemade Ranch, Sweet Baby Ray's BBQ, or Chipotle sauce. When these are combined with our wide variety of toppings, your choices are endless!
Are you feeling inspired to create a pizza work of art? Whether you try one of our favorite combinations or come up with your own, we want to see what you come up with! Send us your creations on Facebook, Twitter, and Instagram with the hashtag #CIMakeItYourOwn.
Get started here: cottageinn.com/menu