This January, Cottage Inn is putting our game face on to support Special Olympics Michigan.
Since its founding in 1968, the Special Olympics has hosted Olympic-style sporting events for adults and children with intellectual disabilities. These athletes are often left out of sporting activities, but the Special Olympics encourages inclusion and acceptance for all. Each year, the organization hosts over 100,000 events which support nearly 5 million athletes around the world. These special events don't just give athletes the opportunity to participate in sports. They also inspire confidence and courage, bringing participants a sense of belonging within their larger communities.
In 2019, Special Olympics Michigan is hosting 30 Polar Plunge events throughout the state to raise money for the Special Olympics. At the Polar Plunge, participants raise money to jump into an icy pool of water. The events offer food, entertainment, and prizes in exchange for support of the Special Olympics. This year, they are hoping to raise more than $1.2 million statewide!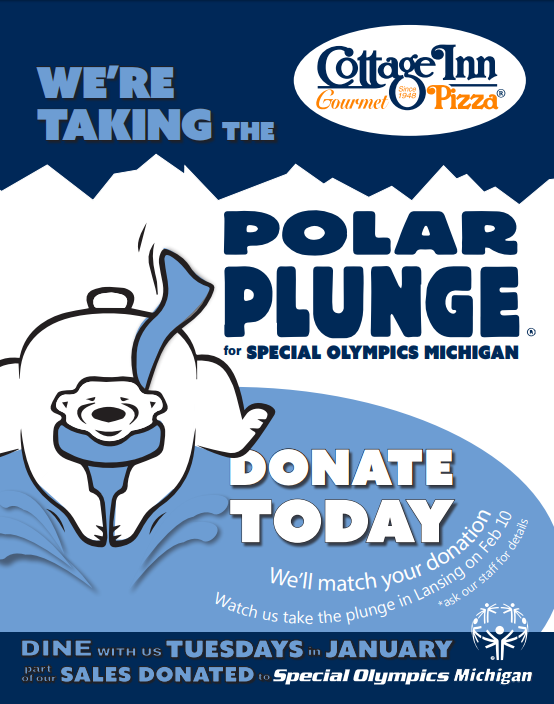 Not interested in the thrill of an icy plunge? Don't worry, we're making it easy for you to support the Special Olympics this month. Each Tuesday in January, you can Dine to Donate to Special Olympics Michigan. On these days, select Cottage Inn locations will donate a percentage of sales to the Special Olympics. That's five days of donations throughout the month! Customers will also have the option to include donations with their in-store and online orders. Who knew fundraising could be so tasty?
In addition to donating, we've also decided to take the Plunge ourselves. Members of the Cottage Inn team will be participating in the Polar Plunge in Lansing on February 10th. If you can't make it to the event, we will be live-streaming the plunge on our Facebook page. You won't want to miss our entry into the costume contest! The water may be ice-cold, but we are happy to take the plunge to support such an inspiring organization.
Looking for more ways to support the Special Olympics? Make sure to check out #PlungeMI on Facebook, Twitter, and Instagram for the latest updates on the Polar Plunge. To find a Plunge near you, or to learn more about Special Olympics Michigan, visit http://somi.org/events/polarplunge.html#.XBktivZFzIU
This January, find a Cottage Inn location near you to support Special Olympics Michigan! https://locations.cottageinn.com/
Participating locations include:
Ann Arbor – Broadway: 1141 Broadway St., Ann Arbor, MI
Ann Arbor – Packard: 546 Packard St., Ann Arbor, MI
Ann Arbor – Stadium: 2301 W. Stadium Blvd., Ann Arbor, MI
Ann Arbor – State: 2900 S. State St., Ann Arbor, MI
Saline – 501 E. Michigan Ave., Saline, MI
Ypsilanti – Washtenaw: 2407 Washtenaw Ave.,Ypsilanti, MI
West Lansing: 5405 W. Saginaw Hwy., Lansing, MI
Downtown Lansing: 303 S. Washington Sq., Lansing, MI
Holt: 1995 N. Cedar St., Holt, MI