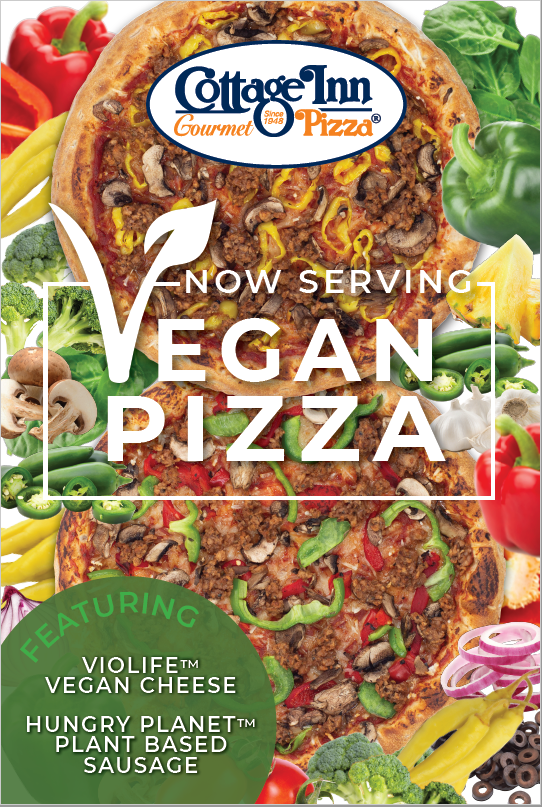 Here at Cottage Inn, we aim to make gourmet pizzas that satisfy any craving, regardless of your dietary restrictions. That's why we are thrilled to announce our NEW vegan pizza! Starting September 1st, we are offering a vegan menu at six Cottage Inn Pizza locations throughout the Ann Arbor and Ypsilanti, MI area. Whether you are vegan, avoiding dairy, or just want to reduce your impact on the earth by consuming fewer animal products, our new vegan option will make it easier for you to enjoy pizza.
Our vegan menu is now available at the following locations:
1141 Broadway St, Ann Arbor, MI 48105
546 Packard St, Ann Arbor, MI 48104
2301 W. Stadium Ave, Ann Arbor, MI 48103
2900 S. State St, Ann Arbor, MI 48104
2407 Washtenaw Ave, Ypsilanti, MI 48197
501 E Michigan Ave, Saline, MI 48176
First, we stretch our freshly-made dough into the perfect round base. We use soy protein instead of whey protein, so our round pizza dough is already vegan!* Next, we spread on our signature pizza sauce. Finally, we sprinkle on our new vegan cheese and the rest is up to you! Whether you choose to add your favorite veggies, try out our new Hungry Planet plant-based Sausage (which tastes just like the real thing), or just enjoy it plain, you're going to love it. You can enjoy our vegan pizza in Small, Medium, Large, and X-Large sizes.
After months of testing vegan cheeses, we have finally found the perfect vegan version of our gourmet cheese blend: Violife's Mozzarella shreds. Praised by peta2 as the "Best Vegan Cheese of 2018," this cheese surpassed our expectations. Not only does it taste great, but it also melts beautifully, providing the perfect cheesy base for your favorite toppings. Violife's Mozzarella is lactose-free, gluten-free, soy-free, and nut-free.
Are you excited for a vegan pizza option in Ann Arbor? Let us know! You can reach out to us on our social media pages below.
Facebook: Facebook.com/CottageInn/
Twitter: @CottageInn
Instagram: @cottageinnpizza