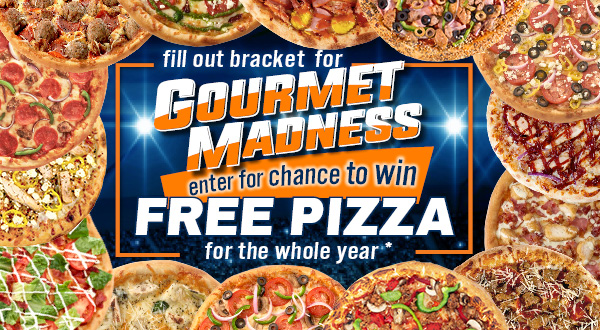 Hi, Pizza fans! If you're anything like us, you're pretty bummed that the season's biggest tournament has been postponed. You may not be able to watch the big games this year, but who says you should miss out on the fun of creating your bracket and competing for great prizes? That's where Gourmet Madness comes in! For the third year in a row, our gourmet pizzas will compete for a spot as the 2020 Gourmet Madness Champion. This year we are offering our biggest prize yet – FREE PIZZA FOR A YEAR! 
This year marks the third annual Gourmet Madness competition. We are doing things a little differently this year. While our gourmet pizzas compete for the top prize, you can also enter to win a prize of your own! From now until April 6, you can submit your very own pizza bracket. We will select one winner to receive FREE Pizza For a Year, and we'll be giving away lots of other fun prizes, including gift cards and merchandise! Whether you prefer the All Meat's abundance of meat toppings, the BLT's perfect combination of lettuce, bacon, tomato, and ranch, or the heat of the Kickin' Chicken, we want to know which gourmet pizzas are your favorite! Simply click the image below to enter now. ↓ Don't forget to share your bracket on social media for an extra entry. Use the tag #GourmetMadness2020 to make sure your entry counts. 
Click here or the bracket below to enter to win FREE pizza for a year!
Stay up to date on all things gourmet madness
Don't miss an update! 🍕 Follow Cottage Inn Pizza on the social media accounts below.